MedStar uses EMS Survey Team to conduct patient experience surveys.
Patients who we treat are chosen at random from the previous month's responses and they complete an online survey. The process is completely transparent, and the patients are free to evaluate all aspects of their encounter with MedStar.
Many of the patients leave comments about their experience with our crews…
Here are some recent comments, as entered by the patient or family, and the MedStar crew members who treated the patient.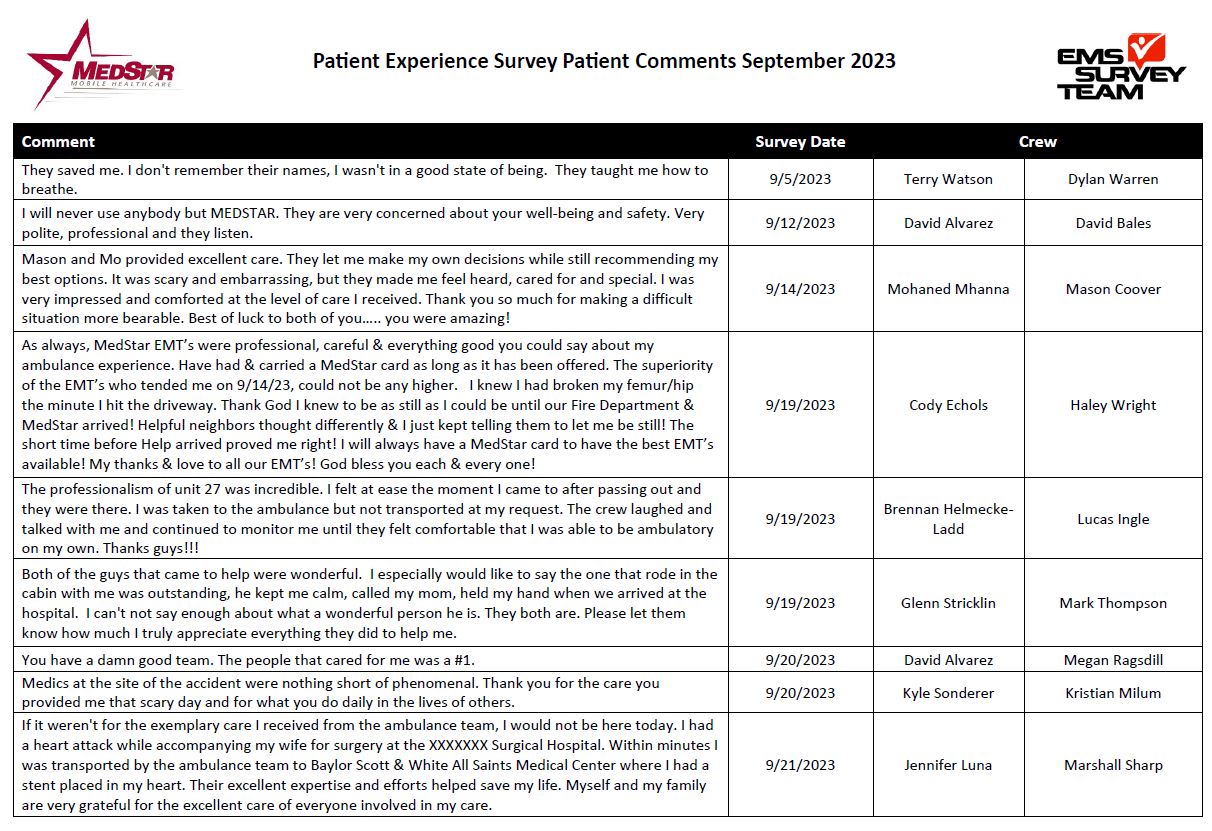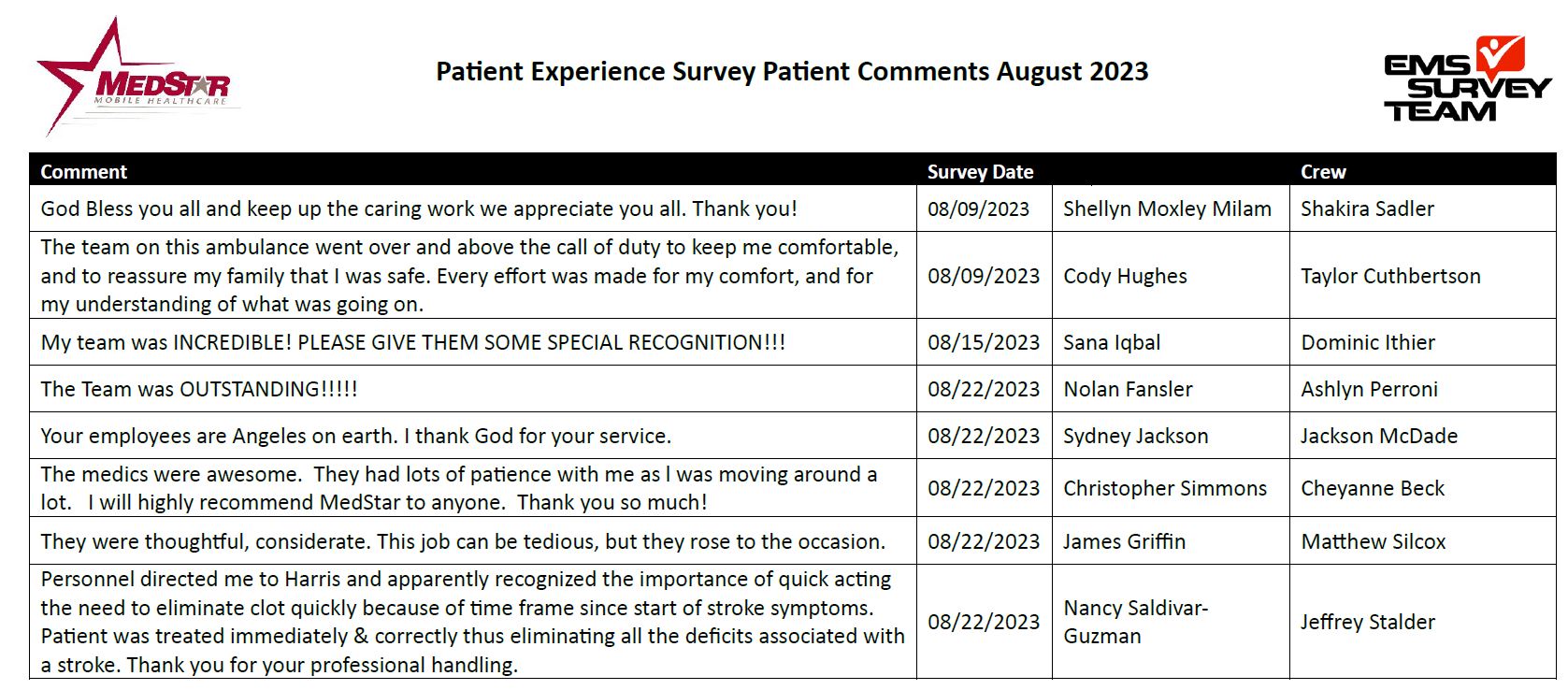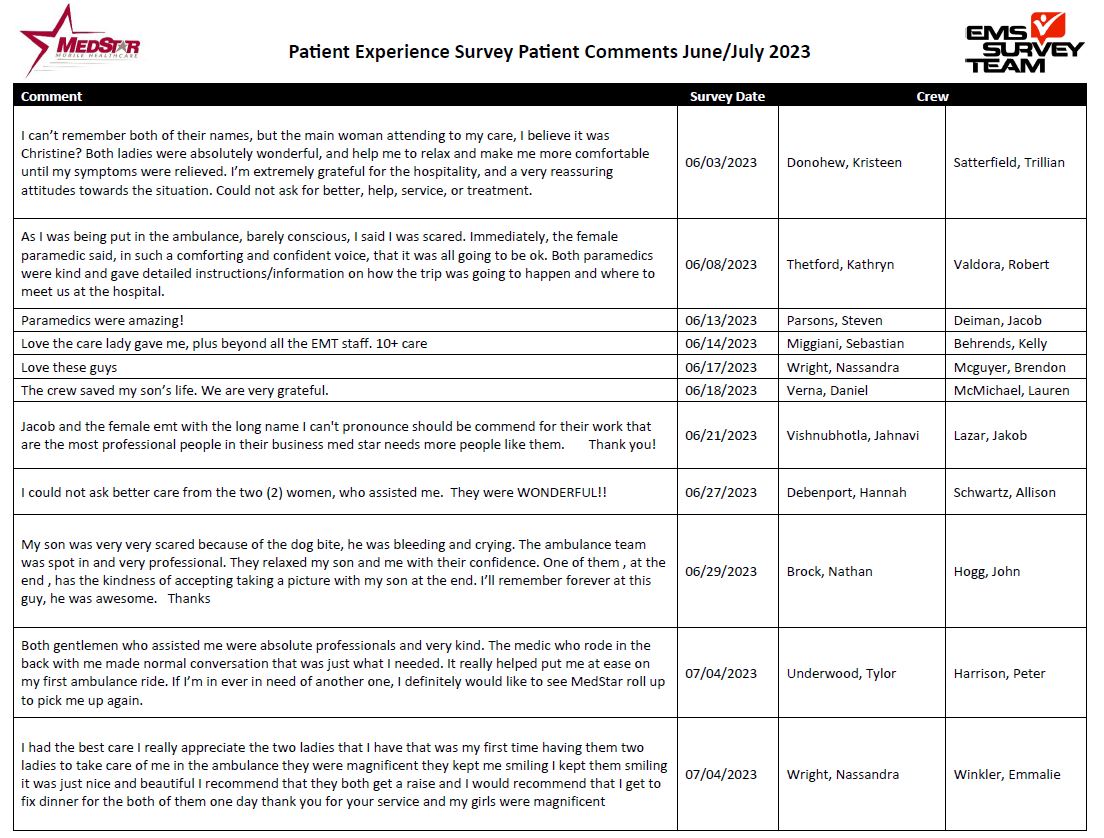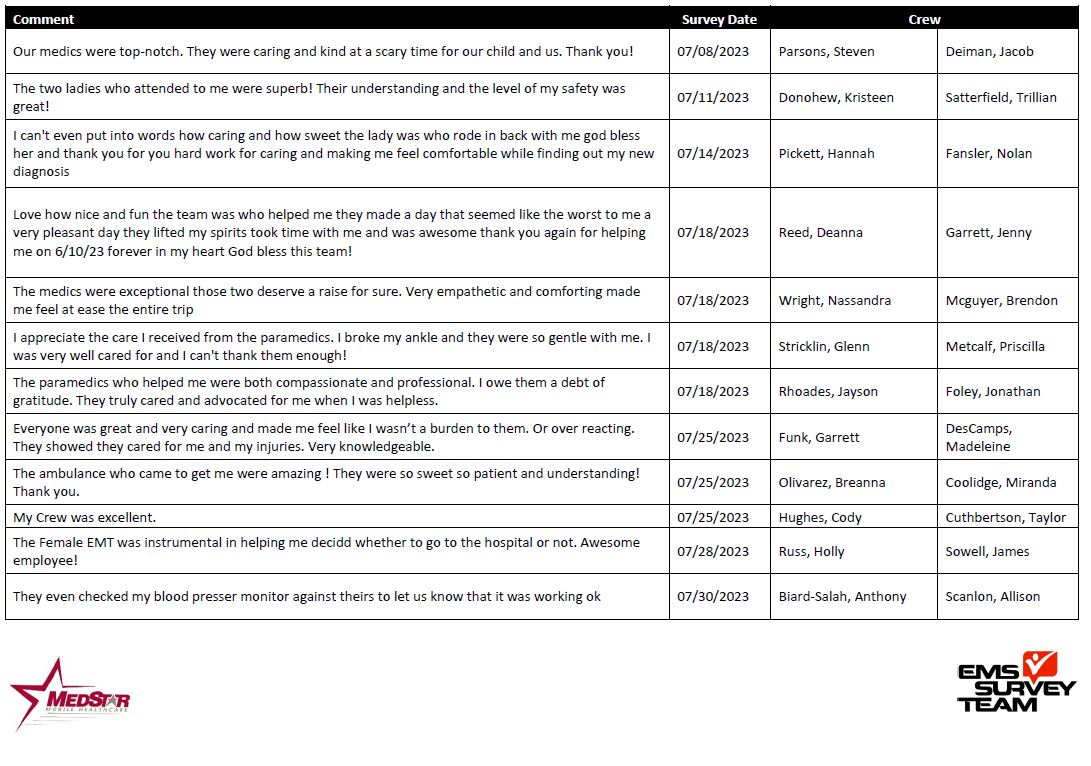 We are very honored to be blessed with amazing care givers!
We also LOVE getting emails from our local hospitals about our team members who demonstrate compassionate care!
Here's one we received about

Thomas Pritchard, Mel Alline & Kayla Madson
"I want to take a minute of your time to tell you about my appreciation and admiration for the conduct and compassion by two of your crews today (15 Aug 23). What they did left a lasting positive impression on both our team and the family.
While transporting a patient to our facility, they had to transport her two young children as well. It was after they arrived where we witnessed a level of care and attention that extended beyond their duties and responsibilities.
After moving the patient to our ED bed, they took the extra initiative and time to entertain and comfort the kids while we registered and assessed their mother. They allowed them to explore the stretcher, show them how it worked, and engaged in friendly conversations, all of which I am sure make the experience a fun and memorable one, and not traumatic for the kids. Their behavior not only lightened the atmosphere for the kids but also provided our team with an uninterrupted environment to assess their mother.
The crew's actions are a testament to their dedication, not just as paramedics, but as individuals who genuinely care about the community they serve. It's one thing to perform a job well when being observed, but it's another to go above and beyond when they don't know anyone is watching. They showed that a human connection that is not always possible in our line of work.
We want to express a heartfelt gratitude to your team for their remarkable service to the family, our family and witnesses that will long be impacted by their interaction. Please recognize Thomas Prichard, Mel Alline and Kayla Madson for their amazing attitude and commitment.
And thank you for creating an environment where your crews feel inspired and able to make a difference every day."
—————————-
Here's a nice call we received from a very grateful grandmother about Jenny Garrett and Noah Burson:
"A few weeks ago my grandson was the passenger in a vehicle involved in minor rear-end collision.
I transported my grandson and the other occupants to the ED for evaluation after they called me to the location, so they could just be checked out.
I took my grandson to an urgent care facility as he was just complaining of a headache. After a short amount of time, the staff told me that being he is complaining of a headache and neck pain that he would need to be transferred by ambulance to Cook Children's.
My grandson was mortified at the thought of having to ride in an ambulance without me to the hospital.
The MedStar crew arrived, and I get choked up every time I began to say this, but they were amazing.
The crew came in and introduced themselves to my grandson as if he was the most important person they've met.
They told me everything that they were going to do, step-by-step and assured me he was in good hands.
I told them I needed t get my car from the parking garage so I could meet them there and they said "Take your time, we will stall a little bit and wait for you so you can follow us".
When I got to where the ambulance was waiting, I was a little concerned because they had not moved. So I knocked on the back doors and when they opened, my heart melted.
My grandson had exam gloves on, they were having water gun wars with syringes and he was smiling and laughing uncontrollably. He didn't even acknowledge that I was there.
The crew transported my grandson to Cooks and my grandson hasn't stopped talking about it.
He told me they put his favorite cartoons on their phone for him to watch, they had water wars, they laughed and now h
e hasn't stopped telling everyone about his experience; from weeks ago!
He told his mom and dad that he is going to be a Paramedic and take care of kids.
I know you don't always get feedback from the patients you transport, but I wanted this crew to know they left a huge impression not only on my grandson, but with me."
A recent phone call from a grateful family member:
"I wanted to take a minute to give recognition to Ruben Cisneros and John Grady. Last night my grandma had a medical emergency and finally agreed to be transported to the hospital. She has a bad leg and can't sit in a car so an ambulance is her only mode of transportation. Ruben and John along with the Haslet fire department did an amazing job taking care of her. Everyone treated her like family as if she was their own grandmother. Even though she probably doesn't remember much from last night, everyone explained in detail what they were doing and what was going to happen. I am so thankful for everyone involved in her patient care and I couldn't have asked for a better crew to care for her."