Special thanks to Jessika Harkay and the team at the Star-Telegram for this wonderful article about our team, and a career in EMS!
—————-
A day on the job at MedStar: What's it like to be a paramedic or 911 dispatcher?
BY JESSIKA HARKAY
MAY 23, 2022
https://www.star-telegram.com/news/local/article261635822.html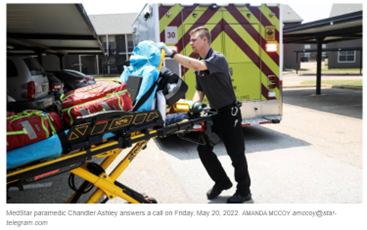 For first responders at MedStar, no day is ever the same, and not every day is high-intensity. But there's one thing that remains the same day in and day out when they clock in for their 12-hour shifts — maybe they'll help save or change a life that day — and that alone is enough to make them love what they do.
The Metropolitan Area EMS Authority, also known as MedStar, serves millions of people in Tarrant County across 15 cities. The ambulance service responds to upwards of 155,000 calls per year with its 65 emergency vehicles, 550-person staff and an efficient operations system that other ambulance service providers from 46 states and five countries have come to Fort Worth to pick up tips from.
Matt Zavadsky, a spokesperson for MedStar, said that though there's a shortage or even a "crisis in true EMS" staffing nationwide, in Fort Worth "we've had a waiting list for the most part."
Last year, NBC reported that a mix of low wages and the pandemic has contributed to a shortage of EMS workers in the U.S. and Texas. In 2020, almost a third of the workforce left after less than a year and 11% left within the first three months, according to a national AAA survey of 258 EMS organizations. In Texas, by mid-August, only 27 percent of licensed EMS workers had submitted a patient care record for 2021, meaning more than 70 percent didn't work on an ambulance in the first eight months of the year, NBC reported, citing the Texas Department of State Health Services. "People want to come here, which is a blessing, but that's also because of our reputation, the way we do things," Zavadsky said. "Our field EMTs and field paramedics don't need to stock their trucks, they don't need to push their trucks, where in most systems you have to do that. People know that's how we operate, plus we do a lot of cool, innovative programs."
With flexible deployment methods, in-house logistics to keep ambulances stocked with emergency materials and a community paramedic program, MedStar is an example of how EMS is evolving as a "young field" and finding new ways to not only stay efficient in helping those in need in times of emergency, but also to provide preventative care. But the ambulance company wouldn't be the same without the people who make operations run smoothly, including its dispatchers, EMTs, paramedics and field supervisors. As National EMS Week came to an end last week, some local first responders shared their stories.
DISPATCH
Jamey Clark sits in a dark room off of the lobby of the MedStar headquarters in Fort Worth. In front of her, seven computer screens filled with data, maps and incoming 911 calls reflect off her eyes and black headset as she types rapidly. "MedStar, this is Jamey, how can I help you?" she says before the typing takes off again.
Clark never imagined she would be a dispatcher. She woke up one day out of high school and thought being an EMT would be fun. She enrolled in classes to receive her certification, and once she graduated, found out she was pregnant. A year later, at 22, Clark was ready to begin her career. The first job that opened up was for a dispatcher, and seven years later, she's still there.
"It was definitely a switch than what I was used to with my typical daytime-type job. The hours are much more demanding, there's a lot more time spent away from home but (my daughter) throughout the years has always been very supportive and really proud of what I do," Clark said.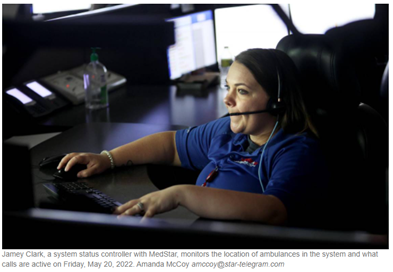 "She used to call the ambulances, 'Mommy's trucks.' So she would see one driving down the road, and she'd be like, 'Mommy's truck, Mommy's truck!'" Clark's now 8-year-old daughter isn't the only one who has pride in her mother's profession.
Clark said there are many moments that make her job rewarding, especially recalling a time she helped a grandmother deliver her grandchild over the phone.  "[MedStar] actually organized a meeting so I could meet the mom and the baby, and that was a really sweet coming together," Clark said, noting that in a MedStar hallway, a Star-Telegram article is framed on the wall with a picture of her and the baby. "Her name is Carter, and her family gave me a plaque picture they made, painted with her baby feet prints on there, and I have it up on the wall in my house," Clark said.
But like most first responder professions, there's also an important balance with difficult situations and being able to compartmentalize. Clark remembered a call when a man said his wife had fallen and was bleeding, and after being on the phone for several minutes as she dispatched an ambulance, she realized there was more to the story.
"He just kept telling me, 'My son is standing there like nothing's wrong,' and I was like, 'Red flag. Weird, weird, weird, something is off about this. He's not being completely forthcoming with me,'" Clark said. "I could hear the patient in the background, she was distressed and having difficulty breathing …
I was giving (the husband) instructions on how to control the bleeding and he kept telling me there's so much blood and he didn't know where it was coming from."
Clark said that she had to deviate from protocol and tell the man to wipe all the blood away to find the wound, and while he did that, she said the woman's voice in the background grew more and more faint, and the man finally admitted a knife was on the table.
The son had stabbed the woman over 50 times, police later concluded, Clark said. "I heard her ask her husband, 'Why did you wait?' And he said, 'I'm sorry I didn't think it was this bad,' so I think there was a history of domestic violence between the son and the mother," Clark said. "She then told her husband 'I love you,' and it was like 10 seconds of silence and all of the sudden the police department busted in."
Clark said that call stuck with her for years, not because of the nature of the call, but the final words of the woman. "It just goes to show that no matter what the situation is, no matter what has happened or has transpired, people take those moments of care, with concern and love, truly, to the end," Clark said. "It changes how you look at certain aspects of life in general."
Clark said she's had to learn not to emotionally invest in her work, which can be difficult being in a non-visual environment where sometimes the event sounds much worse over the phone than what it actually is. "It comes with practice, and it comes with time, learning how to disconnect from some of those things so that you can function professionally," Clark said.
"It's not every day that you get something like that, but you never know when it's going to happen. And when it does, you need to be able to keep yourself calm and to perform in the aspect that you need to make sure that you've gotten help where it needs to go. …
Then take care of yourself on the backend." When asked something she'd like the public to know about her job, Clark said that though she often has to repeat information, which can be frustrating to those under distress, it's to ensure the right care. "We need to make sure that the address that we're sending the units to is correct, and make sure that we understand what's going on at the scene because we work in a non-visual environment," Clark said.
"And we use the details that the caller provides to us to navigate that call, triage that call and provide instructions before the first responders get there."
AMBULANCE CREW
Chandler Ashley and Matt Willens, two paramedics with MedStar, spent a recent Tuesday preparing for a press conference announcing new technology that could save lives. That afternoon was a testament to what both men said they love about their careers — the day never repeats twice.
For Willens, who serves as a clinical practice coordinator, he always knew he was going to end up in emergency services. Originally from New York, he spent his childhood watching his neighbor, who was a paramedic. "I heard the stories that he was telling me, and how he changed patient outcomes daily and no day was ever the same, and that really was something that I wanted to be involved in," Willens said.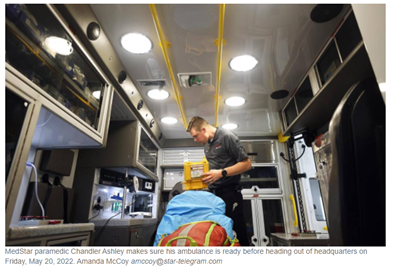 "Once I was an EMT and I went on my first call, I really saw how the paramedics at that time were interacting with not only the patient but the patient's family, and how that interaction can have a change on that patient outcome in the long run." For Ashley, though he has family that had EMT training, his interest in the field came in college, while he was studying to be a band teacher. He grew up playing the saxophone and loved music, but it didn't take long until he realized some passions are better left as hobbies instead of careers.
"I actually went to college in a really small town out in Commerce and the dorm hall I stayed in, oddly enough, had this just massive parking lot, and being a small town, there's not a lot of hospitals out there," Ashley said.
"So they landed the helicopters out there all the time, and there was one day we had three or four EMTs out there and I ended up going and talking to them while they were waiting for a patient. I was picking their brain on what things were, what they did and stuff like that." It piqued his interest, which led to Ashley speaking with his uncle who was a firefighter, and from there, "it just kind of spiraled."
Both men said that although they've been in the field for years, Willens since 1996, and Ashley since about 2016, they still consistently learn something new. "People in ambulances — EMTs, paramedics — they're some of the most highly-trained people out there.
We have to be prepared for whatever type of emergency we go on," Willens said. "We don't specialize in, just say, cardiac or OBGYN … it's not just, you take one class and you're done. People in this field are constantly learning and constantly bettering themselves to take care of the patients. We're always learning because we have to be masters at so many things because we never know what's going to be thrown at us."
Ashley added that he hopes patients can re-frame their thinking of what an ambulance crew does and can do. "If we can stay and stabilize on scene and use the medications we have to start those IVs and secure the airways, that person is going to show up at the hospital with all the nitty gritty done, and the doctors can really start to delve into why did this happen? What are we going to do to fix this long term?" Ashley said. "And typically that almost always has a better outcome than if we just summon the ambulance and drive like people think we do."
FIELD SUPERVISOR
George Church began working in EMS after having friends who volunteered at local fire departments and would come back with interesting stories. "Back in those days I didn't really know what I was going to do or where I was going to go. So many kids that I remember growing up with didn't have much planned out back then," Church said. "I was working for a custom cabinet shop, making pretty decent money at that time, and I thought that I would always do that, but it wasn't very exciting.
That's why the lure of volunteering as an EMT was there." He thought it would be a temporary thing, just for fun, and now it's been 30 years. It starts as an EMT basic, where you can move up into an EMT paramedic and from there, the options open. Some become field training officers, others become critical care paramedics and the branches continue until you can become a supervisor like Church, who is one of eight at MedStar.
He spends his time in his own truck, watching a tablet that has a map with where ambulances are dispatched, fixing any scheduling or personnel problems and rushing to scenes when another paramedic is needed.
After spending a short lifetime as a first responder, he's seen a little of everything, including his profession mixing into his personal life, for better and for worse. "It really has influenced me quite a bit. In the early years, I think I didn't have the coping mechanisms that I have now. While I don't blame my career for any failed relationships, I could see where at that young age, not having the coping skills that I have now, made it hard to balance the two [worlds]," Church said.
"Since that time I've learned the hard way to balance that." Part of that was working long hours, sometimes being desensitized to little things like cuts and bruises and sometimes feeling there were things he couldn't speak about to people who weren't in the field and wouldn't understand. "After two divorces, I'm in a relationship with someone that really, truly, understands what I do and why I do it. She was a paramedic at one time and worked for the Denton County Emergency Management, where it's not exactly what I do, but with a lot of similarities," Church said.
But there were also good moments, he said. Similar to Clark, he helped deliver a baby, but this one was in person. His name is even on the child's birth certificate, he laughed. And somewhere along the way, Church's love for his work transferred to his 28-year-old son, who is an EMT in Austin. "I didn't think he would follow my footsteps. I really didn't think he would," Church said. "He wanted to do something different, looked into and is really enjoying it. I'm really proud of him."