EMS, police, fire and 911 center first responders are a vital part of our community.
Emergencies do not take the holiday off, and many of these selfless professionals will be sacrificing time away from their loved ones over the holidays, helping keep our communities safe! 
Brighten their holiday by sending a quick thank you note, either a general note to all first responders, or to a specific first responder or agency that has made an impact on your life.
We will publicly post responses, and if you identify a specific agency or responder, we will be sure they receive your special note!
Click here to send your thank you note (it will take you about 2 minutes!)
Scroll down to view the current list of "Thank You" notes submitted –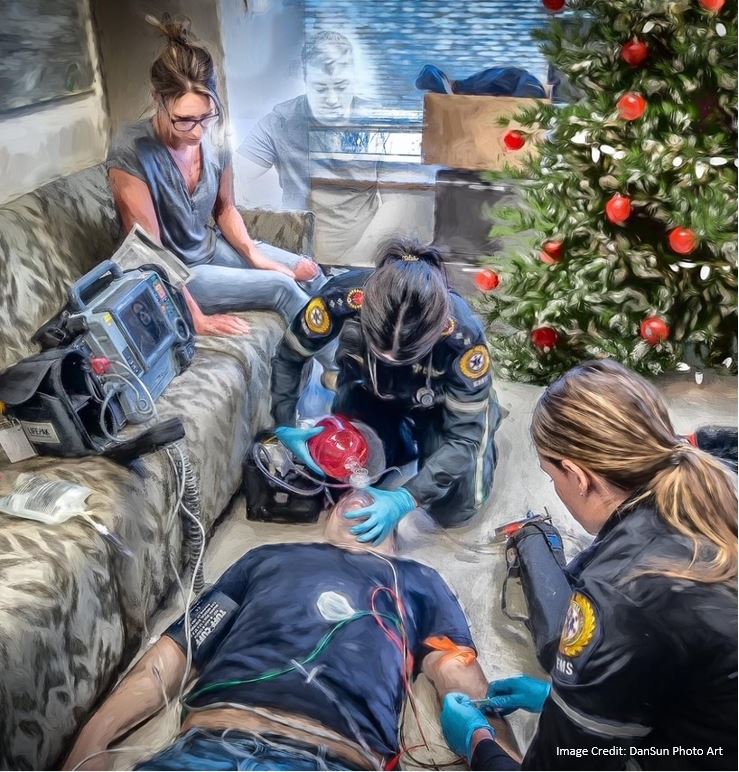 Thank you notes:
Your thank you note for an EMS, police or fire department first responder:

Would you like this sent to a specific EMS, police or fire department? If so, which one?

Thank you for all that you do, your commitment to caring for the community is outstanding.
MedStar Mobile Healthcare
Your MedStar team is amazing!
MedStar
I want to say "Thank you" to Paramedic Donohew. She is always so kind and friendly towards everyone she encounters. To add, she has a demanding home life with her kiddos, yet she continues to put the community and citizens at the top of her list.
MEDSTAR
Thank you to all of you for all that you do.  The world is a better place because of you!
MedStar Mobile Healthcare
Thank you for choosing to serve your community and make a difference in the lives of others. I admire your dedication, compassion, and empathy. Every time you say "I am a paramedic and I am here to help" know that you've already done something beyond measure to reduce pain and suffering.

With respect,

Greg Friese, MS, NRP
Editorial Director, EMS1

EMS
We appreciate all you do.  The lives you save on a daily basis is amazing and it never goes unnoticed.
All of the departments
Thank you for always being there for those of us that need help. Thank you for taking time away from YOUR family to take care of ours. You don not go unnoticed.  May you have a blessed and safe holiday season. Continue the great work.
All departments, please
Thank you for all of your selfless work caring for our community!  Happy Holidays!
MedStar
Words cannot possibly express how grateful I am that you are working. Even if you have moments where you feel unappreciated, know that the community is a better place because of you. I see you. I support you. I hope your holiday is beautiful in any way you celebrate. Many blessings to you and your loved ones for 2023.
All
Thank you for all you do to keep the community safe!
Fort Worth Police
Thank you for all you do!
Fort Worth Fire
JPS Health Network would like to extend a special thanks to all the first responders.  Your partnership is appreciated and your service to our communities is invaluable. Stay safe and happy holidays!
Thank you for all you do!
MedStar
Thank you for your dedication and service.
All
Thank you for being there for everyone no matter the time or circumstances! You guys are the true heroes!
Thank you so very much for ALL you do!  You make such a difference in all our lives by helping and serving us on what may be our very worst day!   Thank you for selflessly serving on days when the rest of us are celebrating!  You are my heroes!!  ALL OF YOU!
all first responders
Thank you for everything you do to keep Mansfield safe!
Mansfield Police
Thank you for keeping Mansfield safe and healthy!
Mansfield Fire
Thank you for saving my husband's life multiple times over the years!!  Y'all have provided help in an instant when we most needed it and made such a difference in his outcomes and in our lives!  Thank you so very much and may God richly bless you all for giving so selflessly to all those in need!!
Fort Worth Fire Department Station 21
I spent many holidays working as an ICU nurse. I am familiar with how hard it is to be away from your family during the holidays. I pray you have an uneventful holiday shift, and I pray you are able to have some quality time w/ your family during the holidays as well. Thank you for the work you do, the difficult situations you manage on a daily basis, and the efforts you put in to save another.

You recently tried to save a loved one of mine. His mother, his brother, and I are profoundly grateful for the effort you put in. He is at peace, and we are grateful for the time we had w/ him.

Aledo EMS, police, and fire department.
Thank you MedStar, for always looking out for Tarrant County!
To all the Police, Fire and Medical responders in Tarrant County – Thank you!!
Thank all EMS that are working over the holidays & every day. Two EMTs helped e in July when I fell in the driveway, broke my hip & wrist. Never had to call an ambulance in all my 69 yrs but they helped with my pain & cared about me ass person. Thank you to those 2 young men that I didn't get their names though.
EMS
Thank you to all police officers. I can only imagine what you go through every day but from the bottom of my heart I appreciate every one of you. Stay safe over the holidays & every day. Prayers for all of your safety & guidance through your days
All Police Officers
Thank you to all Firefighters over the holidays and everyday. You rush in when others rush out! I can only imagine what all you have to do but I appreciate what you do. Thank you
All Firefighters
Thank you for your commitment to providing the very best care to the people in our community! What you do is so much more than just a job and one that so many of us count on each and every day!
Happy Holidays and Many Blessings!
Thank you for everything you do, not only today, but every day. Your service and protection does not go unnoticed. Stay safe during the holiday season!
all
Nothing can replace the time away from your loved ones but we appreciate all you sacrifice to keep all of our loved ones safe and give them the care they may need to see many more holidays with us!  Don't forget to take care of you too!
Thank you!
Thank each of you for making the choice to care for others. Your selfless devotion to your profession is what makes all of us have help when we need it most.
No
Thank each of you for making the choice to care for others. Your selfless devotion to your profession is what makes all of us have help when we need it most.
No
Karen Garvey
Dallas Police Department
Thank you for your long stressful hours and dedication to the community you serve.  Just knowing you are there for anyone in need is so reassuring.  Once again Thank you!! Many prayers for your dedication & service🙏🏻
MedStar
Thank you to the whole Medstar Mobile Healthcare team for taking such great care of Fort Worth! The world is a better place for having each of you in it. – Amanda, Nick, and Margot
Thank you for ALWAYS, 24/7, being available to take care of our community. You all are always in my prayers.
MedStar
Thank you for ALWAYS, 24/7, being available to take care of our community. You all are always in my prayers.
Fort Worth Police Department
Thank you for ALWAYS, 24/7, being available to take care of our community. You all are always in my prayers.
Fort Worth Fire Department
We truly appreciate all of our first responders and their dedication to assisting their community in times of distress.  We pray for you and especially your families for their sacrifices and support of your career.
We also pray for your safety that you return home to your family
We pray for your mental and physical health
Thank you for what else you do for our community
God bless you all and your families
The Testa Family
MedStar EMS and the Fort Worth Fire And Police Departments
I just want to say "Thank You" for choosing to do what you do… Words cannot express the amount of gratitude and respect that I have for all first responders!  Thank you for taking the time away from your family to take care of others. Your hard work does not go unnoticed. I hope you all have a SAFE and wonderful happy holiday!!
All first responders
Thank you for all you do to keep our community safe. For putting your lives on the line to protect ours. And to the very active emergency management office that keeps us up to date on weather and incidents through social media.
Johnson County Sheriff's Office
Thank you for taking time away from your family to help everyone else. We truly appreciate all you do. Stay safe and warm!
EMS
Fortunately, I have never required your services, but I know many, many people who have. Thank you for always being there for them, and for expertly serving the emergent health needs of those in our area. Your dedication and reliability is appreciated more than you know.

A wish for Happy holidays to your entire team.

Mike Sanborn, President
BS&W All Saints Med Ctr

MedStar
Hello from Garland, TX! Thank you so much for all that you do — I know it's not easy. Especially during the holidays. But I hope you can find solace in knowing that you single handedly impact so many lives every single day of your career. What a blessing you are to this world. Remember that. <3 Sending so much love to you and your family!
15 years in EMS… I've spent many a holiday working on an ambulance. I know how extra draining some of the calls can be during this time. Just know you're not alone and you're so appreciated.
Any and all – specifically the responders in Shasta, Lassen, Siskiyou, and Trinity counties of California.
Regardless whether it's 102 or negative 2, a holiday or a weekend,  during a pandemic, on your birthday,  or a day you ' were scheduled off'…. you are there..for all of us.  I appreciate you as a member of the media and as a mother, wife and daughter.  You risk your lives for us every day. I see you, I appreciate you…and I thank you.  💗
Thank you for everything you do. It is all appreciated and your hard work is noticed.
Thank you for going out and helping.  You are one hell of a sister and Aunt to Carter
Jenny Garrett
Medstar Team:  Thank you for all you do in the heat of the summer to the blistering cold of the Winter, you all are there to take care of the patient!  I wish you all a happy, healthy and safe Holiday Season and New Year!
MEDSTAR
Thank you for all that you do to keep us safe 365 days a year.
Fort Worth Police Department
Thank you for responding when you are needed the most.
Fort Worth Fire Department
Thank you for being that calm presence when it is needed the most.
MedStar
I love you mom
Jenny Garrett
EMS
MedStar, Benbrook, CareFlite
Thank you for your dedication, compassion, and passion in caring for our STEMI/ACS patients at THFW. We are so thankful that each of you are part of our team. What you do is more than a job; it is a calling. We are so grateful someone like you answered that call! Merry Christmas and Happy Holidays from your Cardiovascular Team at THFW.
Thank you all for making Ft Worth and Tarrant County a great and safe place to live.  When we are all enjoying family you will be away from your families keeping us safe.  Your hard work and sacrifice is much appreciated!!
Texas Health Southwest is so thankful to have such strong relationships with all of our EMS partners. We couldn't do it without you, thank you!

Leah Boom
EMS Liaison
Texas Health Southwest Hospital

MedStar, AMR Johnson County, Benbrook FD, Careflite, Cleburne FD, Crowley FD and Joshua FD
Thank you for all the EMS, police force, and fire fighters. I honor each one of you with the impact of selfless duties to the entire community. The dangers and crisis you respond everyday are reflections of courage and human kindness that are noble and heroic. I thank you all from the bottom of my heart to have such dedicated individuals in the line of duty. Happy Holidays to you and your family!!!
I want to give the biggest of thank you's to PD, Fire and especially Medstar for keeping the streets of Fort Worth safe. Thank you for the time you put in and the teamwork you give to each other. Thank you for risking your lives and sacrificing time away from your own life and family to serve the community everyday but especially during the holidays. I want to give the BIGGEST of thank you's to my husband Zach Vasquez and his partners and friends Mason Durham, Kyle Sonderer, Jenny Garrett and Deanna Reed for being super brave everyday and making a difference in the world. Thank you for looking out for each other and protecting each other so that everyone makes it home to their loved ones. Your families and the streets are so lucky to have you!
Medstar
All First Responder
Thank you so much for your day-in-and-day-out sacrifices but even more so now around the holidays. You're in our prayers for safety always.

Love,

a medically-retired paramedic

Thank you! You know your the best in the world. Saving lives. So much responsibility.
THANK YOU
Dakota Ives, Paramedic with MedStar.
Fort Worth is blessed to have such knowledgeable and dedicated partners in our times of trouble. Your willingness and attitude make these hard times easier. As we look forward to 2023, please know that words cannot express our gratitude for each and every action that you have taken over the last year. Please have a blessed holiday season.
Your partners at Medical City Alliance
Thank you all so much for everything you do for our community.  Your selfless efforts do not go unnoticed. JPS Forensic Nurses appreciate you and wish you a very Merry & Safe Holiday Season!
Medstar, FTW Police Department, FTW Fire Department
From your partners at Methodist Mansfield Medical Center thank you for all your hard work and dedication. We are all part of the same team and are so humbled by the work you do keeping our communities healthy and safe. Merry Christmas to you and your families!
Fire, EMS, and Police agencies in Mansfield, Midlothian, Grand Prairie, Arlington, Cedar Hill, Rendon, Kennedale, Ft Worth, Ellis County, and Johnson Counties.
With the deepest appreciation, I would like to thank our first responders for serving DFW. This metroplex could never thrive without your dedication to our public safety.  The service you risk your life for, and the peace of mind you provide us is invaluable. We are blessed each day to be under your watch and care.
As a former member of Medstar, a pt of Medstar and someone that has seen the things they have done for family members. Thank you for all you do. It mostly a thankless job but nobody that gets into ems does it for the gratitude. You help the world keep turning everyday and do it 24/7. Thank you for all you service in every department.
Medstar Mobile Healthcare
Thank you for working and putting yourselves at risk even when TV and radio stations are telling everyone else to stay home. Thank you for always keeping a level head when the people you're responding to are in a time of crisis.
Thank you for serving our communities and hospitals.  We really do appreciate you and all the work you do.  Your selflessness care and willingness to be an extension to hospitals and go to homes, businesses, dark allies, highways, and streets is admirable.  We are so fortunate to work with each and every one of you.  Thank you for what you have done, are doing, and will do.  God Bless you.
I am a nurse in the busiest (adult) ER in Fort Worth.  You all make such a difference!  I can't pick out just one.  You are admired, respected and very much appreciated in our department—all of you!
MedStar EMS
Thank you to my amazing husband and all of his coworkers. Your sacrifices and service are respected beyond measure.
Medstar
THANK YOU for all that you do! You are appreciated! Happy Holidays and be safe! -Kymmie x THR Alliance
ALL