Fort Worth, TX — January 7, 2019 – The number of MedStar 9-1-1 calls for patients with a primary or secondary impression of Influenza Like Illness (ILI) continues to rise.
There were 242 cases in December 2018 (7.8 per day average), up from 199 cases in December 2017 (6.4 per day average), and up from 123 cases (4.1 per day average) in November 2018.
This tracks closely with the findings from the most recent Tarrant County Health Department report that the percentage of reported influenza-like illness (ILI) in Tarrant County increased from 3.8% in week 50 to 6.3% in week 51 and is currently above the 2018-2019 Tarrant County baseline (2.7%).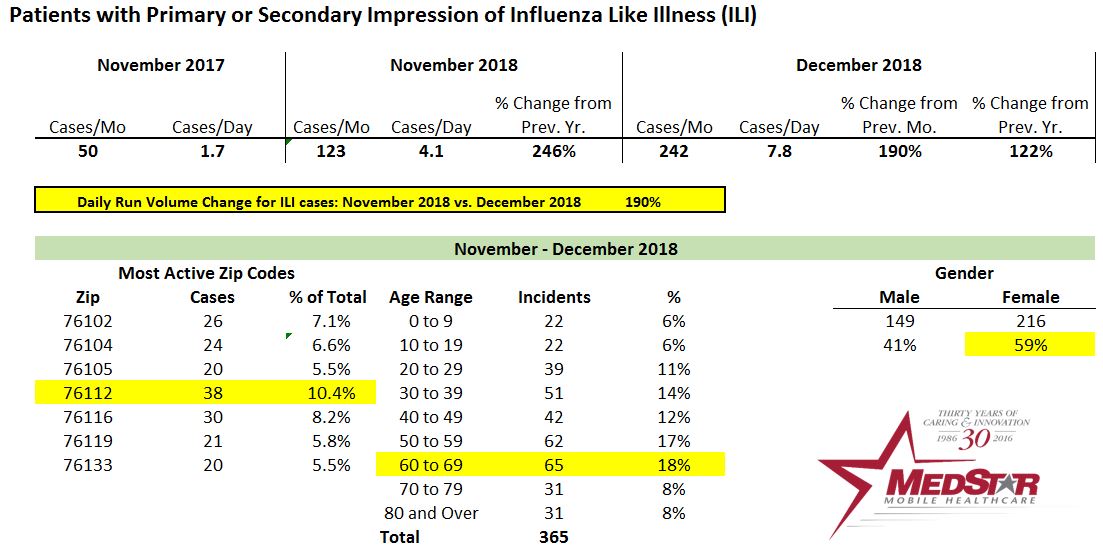 We encourage everyone to use good flu prevention techniques from the CDC and the Tarrant County Health Department, and it's still not too late to get your flu vaccine!
Quick Tips:
We urge everyone to use precautions to prevent possible transmission of viruses:
Cover your nose and mouth with a tissue when you cough or sneeze. Throw the tissue in the trash after you use it.
Wash your hands often with soap and water. If soap and water are not available, use an alcohol-based hand rub.
Avoid touching your eyes, nose and mouth. Germs spread this way.
Clean and disinfect surfaces and objects that may be contaminated with germs like the flu.
Between January and March, 2018, MedStar crews responded to over 1,100 patients with flu like illness.
Hopefully, this trend will not continue, but we strongly encourage residents to seriously consider getting vaccinated for the flu!
Click here for flu information sheet, including recommendations from the CDC, and here is a link for flu information from the Tarrant County Health Department.
And, to help reverse this early trend, MedStar is offering to bring a mobile flu vaccination clinic to any location with a group of 10 or more who would like to be vaccinated – click here for more information.